On September 21st and 22nd 2022 the AQUILA a-LIFE's final conference will take place in GREFA's Wildlife Hospital located in Majadahonda (Madrid). It will be the right time to talk about the current status of the Bonelli's eagle and present the project's results. Even though this event is mainly technical, it will be possible for anyone interested in the topic to follow it on streaming via the project's website.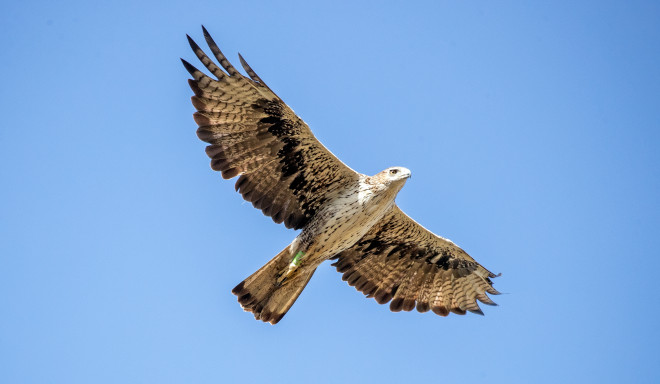 The AQUILA a-LIFE project (LIFE16 NAT/ES/000235), financed by the European Union, started so as to contribute to increasing the species' presence extension in the western Mediterranean region and reversing its downward trend. To do so, more than 120 individuals have been released in Spain and Italy (Sardinia) and its main current threats have been tackled, with a special focus on preventing and decreasing electrocutions. So much so that during the project's five years more than ten thousand dangerous perching spots for birds have been isolated under the project's coverage and with the collaboration of electrical companies and regional authorities.
The AQUILA a-LIFE project, which started on October 1st 2017 and will still be operative until September 30th, is coordinated by GREFA and counts with the participation of partner institutions such as the Provincial Council of Álava, Fundació Natura Parc (Mallorca), the Environmental Management of Navarra (Government of Navarra), ISPRA (Italy) and LPO/BirdLife (France). It is also supported by Fundación Biodiversidad, part of the Ministry for the Ecological Transition and the Demographic Challenge.


Two days of interesting contents
The first day of the conference, Wednesday September 21st, will be dedicated to analysing the status of Bonelli's eagle populations in the Mediterranean region. It will also be the opportunity for different speakers talking on behalf of AQUILA a-LIFE's partner institutions to brief their main results on the project. Other specialists working in different locations not covered by AQUILA a-LIFE have also been invited to inform about the situation of the species in their respective territories.
The second day, Thursday September 22nd, will be focused on the progress accomplished by AQUILA a-LIFE regarding electrocutions, leading cause of unnatural death in the species. A documentary addressing this topic and titled "Lethal Wires", which has been created by nature photographer and filmmaker Francisco Márquez commissioned by AQUILA a-LIFE, will also be presented.
Another important content of the conference will be the approval of the Plan of Action for the conservation of the Bonelli's eagle in the European Union by AQUILA a-LIFE's scientific committee, which is being developed thanks to the promotion of this project.


Access to the conference via streaming
AQUILA a-LIFE's final conference will be available on streaming for everyone interested in this project and, in general, in Bonelli's eagles. In order to access, it is necessary to apply previously through the following survey:
https://docs.google.com/forms/d/e/1FAIpQLSde2Np4VAo5S1IPxr-JqQ4-Heu2uqx9E6bZshphSRw5MC_2IQ/viewform


More information on AQUILA a-LIFE
https://aquila-a-life.org/index.php/es/