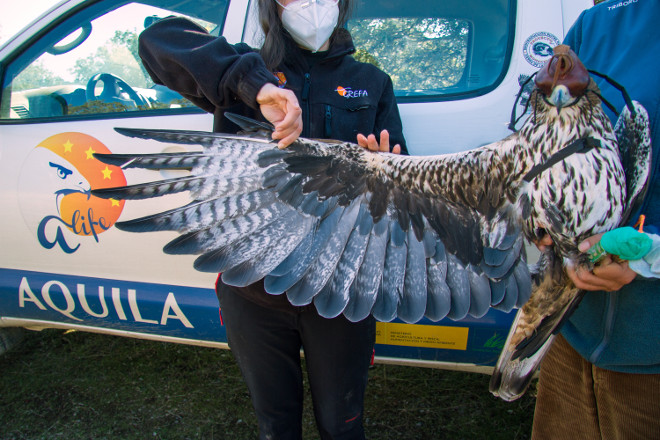 The following scientific work has been carried out with data from the AQUILA a-LIFE project and the previous LIFE Bonelli project:


Universitat de les Illes Balears: Javier Reina (2017). Monitoring of the juvenile dispersal process of the Bonelli's eagle (Aquila fasciata) within the framework of the Life Bonelli project. Final Degree Project in Biology.
Download:
https://dspace.uib.es/xmlui/bitstream/handle/11201/145710/Reina_Javier.pdf

Universidad Complutense de Madrid: Miriam Conde (2018). Establishment and territory dynamics of the Bonelli's Eagle (Aquila fasciata) on the island of Mallorca. Master's Thesis in Zoology.
Download:
https://www.aquila-a-life.org/index.php/es/de-interes/multimedia/descargas/category/11-reintroducciones?download=414:establecimiento-y-dinamica-del-territorio-del-aguila-de-bonelli-aquila-fasciata-en-la-isla-de-mallorca-miriam-conde-de-dios&start=20
It made news:
https://www.aquila-a-life.org/index.php/es/8-noticias-espanol/183-os-recomendamos-este-interesante-estudio-del-aguila-de-bonelli

Universitat de Barcelona: Jaume Adrià Badia-Boher, Antonio Hernández-Matías, Carlota Viada and Joan Real. Raptor reintroductions: cost-effective alternatives to captive breeding. Animal Conservation.
Download: http://doi.org/10.1111/acv.12729
Papers under review or in press:


Universidad Complutense de Madrid: Miriam Conde, Beatriz Martínez Miranzo y José I. Aguirre. Early stages of territory settlement in a newly reintroduced top predator: Bonelli's Eagle (Aquila fasciata) on Mallorca Island. Under review by Bird Conservation International.


Universitat de València: Olga Egea, Ernesto Álvarez, Giuseppe Cortone, Massimiliano di Vittorio, Manuel Galán, Juan José Iglesias-Lebrija, Mario Lo Valvo, Juan Martínez, Stefania Merlino, Carlota Viada y Pascual López-López. Assessing reintroduction outcome: comparison of the juvenile post-fledging dependence period between wild and reintroduced Bonelli's eagles in two Mediterranean islands. Under review by Animal Conservation.


Study in progress:


Universidad Universidad Complutense de Madrid: Cristina Marín. Modelling the distribution of other raptors on the island as a function of the location and use of Bonelli's Eagle territories and other abiotic variables. Master's thesis in Zoology, directed by José I. Aguirre and Beatriz Martínez Miranzo.